This October was a blessed month for my family.  My husband Erik and I celebrated our 30th anniversary on the 3rd of October, seriously how can that be?  I am only 25, right??  Or I should say I only feel 25...until the hot flashes start and then I remember my real age!  Our oldest son Dylan (Mitchell) got married to the love of his life Brianna on the 7th of October.  Dylan and Brianna have been together since right out of high school.  She graduated this past year and started her new job and my son is in his 2nd year at his own business.  They have purchased a home and are working on making it their own.  This picture from their wedding day.  Dalton (Beau) 24 years old, me, Brianna 25 years old, Dylan (26 years old) and Erik.  Dalton (Beau) is on his 5th year in college (with no end in sight) He has finally found something he loves (after changing his major a few too many times) and is excited about his future.  Erik and I are empty nesters, but we are excited about the future of our boys & did I mention that I have a daughter now?  So excited to have this beautiful lady in our life.  Brianna is the best thing that ever happened to Dylan and we are excited for the future and grandbabies!  
  I am going to try to blog more often to let you know a little bit more about me and Beau Mitchell Boutique.  My goal is to make more "how to" videos for the website and those learning embroidery.  I have several request for new designs that I plan to start as soon as I finish up the Christmas designs I am working on.
How to Applique
I have had a lot of people ask me how to applique. I just returned from St. Louis where I taught a class at Jackman's Fabrics on How to Applique. I was so excited to teach people how I do applique. I digitize my designs with all of the applique pieces to be placed first. Then move on to the satin stitches. Here is a presentation on the steps I recommend.
Beau Mitchell Boutique will be at the Applique Getaway this year!
Applique Getaway is June 28 & 29, 2014 in Frisco Texas.
This event is at the Frisco Convention Center
June 28 & 29th in Frisco Texas
http://appliquegetaway.com/
Beau Mitchell Boutique will be at the Applique Getaway this year! Are you going to the Applique Getaway? This is the 2nd annual applique getaway is in Frisco, Texas. I am so excited to be part of this great event. This year I am teaching the single needle class. I am currently working on new information for the class. I will be teaching how to hoop everyday items like bodysuits(formally known as onesie), hats & a few new items! There will be classes taught by several digitizers on both days of the event. Everything from hooping & picture presentation, to merging and adding lettering to your designs. There is a class for everyone! Everyone from beginners to the skilled embroiderer who has been embroidering for years should attend! There is even a class on the silhouette, teaching you how to use your silhouette with embroidery! So much to learn and use in your everyday embroidery practices. You will learn so many things that will help you grow your embroidery business, and new things to make for friends and family for gifts. Please send me an email if there is something you have had issues hooping or embroidering on your single needle in the past. Or if there is something you just wanted to know how to hoop for a single needle & I will try to include this in the class. So much information to learn and use in your embroidery business. I hope everyone can join in on this fun weekend.
Hope to meet you in Frisco!
Jodie
Happy New Year
Now that the holidays are behind us, Winter is here in full force. Beau Mitchell Boutique is ready for Spring! Winter & I do not get along at ALL! Forcast this week is for a high of -6...brrrr
I should not say I hate winter, when it is cold outside I tend to stay in my sewing room and create! One of my favorite things ever! Valentines day is right around the corner, then St. Patricks day & Easter. I have several designs ready for download for each of the mentioned designs.
I hope everyone had a Merry Christmas. Here is my family, not the best picture. My boys were on the go and ready to get on with their plans for the night, so this is the only picture I got!
Dylan (Mitchell) 22, Camo (my 2 yr old labradoodle), Me (yes I know, not my best picture...remember this was a last ditch effort for the Christmas card!), Erik(my better half), Boomer (my 13 year old Labrador) & Dalton (Beau-my youngest will be 21 in Feb.) Yes I live with all males...even the dogs!!!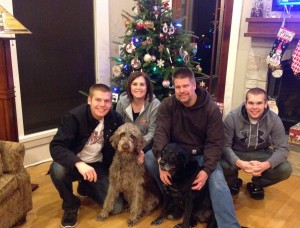 Happy New Year everyone!
Happy Spring
Summer will be here before we know it! Here in Indiana everything is starting to bloom and the grass is green, hopefully winter is gone for now and summer is here to stay! I have been working on designs while recuperating from surgery to remove my gallbladder. During all of this downtime I had a chance to digitize some great summer designs. May is a big month for Indiana – The Indianapolis 500 turns Indiana into the racing capital all month long! I am working on a race car to add to the website soon! 4th of July is one of my favorite holidays…My oldest son was born July 3rd (Dylan Mitchell will be 22 this year!), so the Holiday is always a big celebration at our house. We also do a lot of fishing at our pond during the summer and have a big fish fry every year with family and friends… I have a lot of designs that I am working on and can't wait to share with all of you!
I list all of my new designs in the NEW DESIGN page, so check that page first when visiting Beau Mitchell Boutique & check out what I have listed since the last time. And a reminder if you have an idea for a design that others would like and I can add it to the website…the design is yours free! You can email me anytime at jmarburger@comcast.net
Christmas Time
Christmas time…as I have said before, it is my favorite time of the year! I love it because I get to make a lot of gifts! I always try to make gifts for family and friends. I feel like a failure when I have to purchase something…unless I can add something to it! I have several designs that are great for kitchen & hand towels for gifts, who wouldn't love a new decorated towel? This time of year I am busy with my own gifts and completing gifts other people have ordered, right now I am working on a quilt, sweatshirts for our Construction Company & orders from a local craft show. I hope everyone is enjoying this busy season, as much as I am, so crank up that Christmas music and get stitching!
It is my FAVORITE time of the year!
The holidays are here....well almost! Yesterday was Halloween and I had a great time handing out candy to all of my nieces and nephews...well the younger ones anyway!
So we are on the countdown to Thanksgiving and Christmas! I have been busy working on new designs for the website! I have a new Santa Elf alphabet that is being released today! I have been working on this for a few weeks and my tester provided me with absolutely gorgeous photos! I hope everyone loves the design as much as I do! I am still working on designs daily so check back often!